So, as many of you know, I've learned over the past year or so that my body doesn't tolerate gluten. Yeah, it's a pain, but I feel so much better when I don't eat it...not to mention all the long-term effects. In fact, the Celiac could very well have played a part in my big drama episode last year with the multiple clots in both lungs--my doctor is investigating this for me.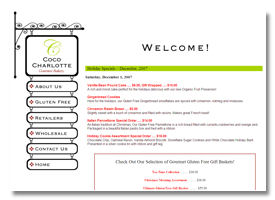 Living gluten-free is much easier than it used to be. There are so many yummy products out now. We even have a gluten-free bakery in Grand Rapids! In fact, I just finished the website for
Coco Charlotte
. The owner, Erin, studied in Paris, so she
knows
baking! I got a pumpkin cheesecake for Thanksgiving that was totally amazing! I could go on and on...
Also related to this subject, I've also been given the leadership responsibility for our local
Celiac Support Network
in Barry County. We've just had one meeting since I have been leading it, but it went really well and we had a lot of new people show up. The word is getting out and I think we're going to be able to help a lot of people with our group. We meet on the 3rd Monday of each month...visit the site for more information.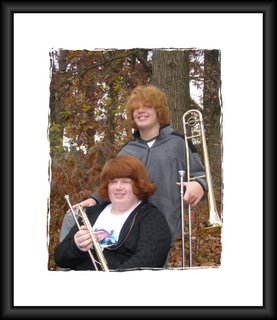 The boys have finished up their first trimester in school and they did an amazing job academically! Christopher has a 4.0 GPA (including one AP--college--class) and Ian is right up there with a 3.94 GPA. They're both great kids and we're very proud of them.
We had a kind of fun week at work this week. We had a cubicle decorating contest and Slipper Day, which was kind of fun. There are
pictures
on my Flickr site, if you're interested.
I know it's not October (Breast Cancer Awareness Month), but if you haven't had a mammogram recently, please make that appointment! When it hits someone in your family, you realize the importance...just kind of drives it home and you make the call. Don't wait for that, though...make that appointment today!
Have fun getting ready for Christmas! I'll try to post again really soon!
Labels: Celiac, Dramatic Design, family, gluten-free, school, work