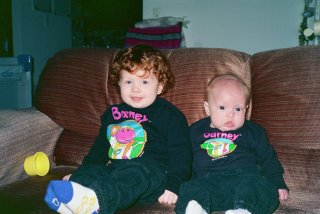 I just happened to run across this picture and it made me smile. The boys certainly don't look like this anymore, but they sure were cute at that age! I don't have a very current picture to post, but maybe soon.
Life certainly is busy around here. Christopher is going to be playing football in the fall and Ian is looking toward running track. Both boys did a great job in school this past year--almost all A's with a few B's mixed in. Ian also marched in the Memorial Day Parade...his first marching experience.
Scott's still enjoying his new job and had a chance to go to Orlando for a conference with work a few months ago. Next year, the same conference will be in Washington DC and we are all going along. It will be a great family vacation.
Kim's been busy with websites. Some new sites include:
All The Good Stuff
,
Prairieville Farm Days
, and
Soggy Bottom Labs
. So, if you're looking for some great fudge, some country music, or a puppy, check them out! Special thanks to
Vicki
for a great job on the artwork for the Prairieville Farm Days site!
Since the last post, we have had to move Grandpa into the Alzheimer's Unit full-time. It was just getting too confusing for him to switch back and forth between the settings. For the most part, he seems happy there, but he does miss Grandma. He is
Resident of the Month
this month, so they are having a party in his honor, which he should enjoy. Grandma is recovering from a recent fall; she fractured 2 vertebrae in her neck, so it's been a rough patch for her.
Guess that's about it for now. Take care, everyone!
Labels: Dramatic Design, family, friends