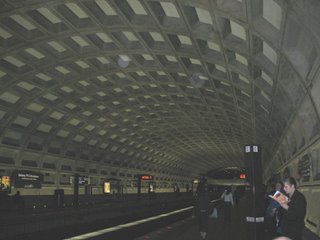 By the second or third day, we were very familiar with the Metro system (subway). It was pretty amazing how much this city was designed for pedestrians--the subway and the traffic lights that told you how many seconds remained for you to walk before the light changed. The lack of parking and expensive cost to park really encourage the residents to use public transportation instead of owning a car.
Day 3 was all about the pandas. This picture was taken when Tai Shan came right up to the glass where we were standing. The blurriness is caused from the fog/moisture that the zoo puts into the air to make the habitat seem like a rain forest atmosphere. Tai Shan is 20 months old and will be returned to China in a few months. He was totally adorable!
We took a TON of photos of the pandas...just follow the link below to see more!
See all the photos
here
, along with descriptions of many of the photos.
Labels: panda, travel, vacation, Washington DC, zoo